We win by standing together
At Cotton On, we share the belief that equality is a team sport and want to amplify organizations making a difference. Introducing ACTIIVST X Athlete Ally: A collection that calls for collective action and unity. 100% of proceeds will go to Athlete Ally to advocate for LGBTQI+ people in sport.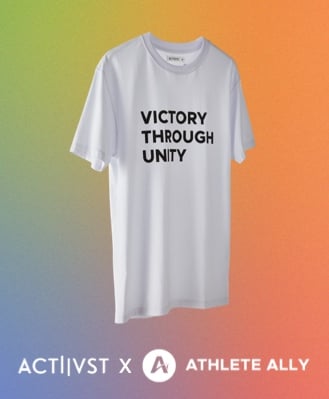 Sport is one of the greatest social structures in the world. It unifies communities, encourages teamwork, and is a powerful mental and physical outlet. However, the LGBTQI+ community remains marginalized and unfairly excluded. We're proud to get behind Athlete Ally and ACTIIVST in their shared mission: To inspire action that has a positive impact. To champion equality and make a difference in people's lives.
Athlete Ally is a leading non-profit organization working to end the oppression of LGBTQI+ people in sport. They raise awareness of the obstacles this community is facing and how we can build a more inclusive culture within sport. From athlete activism and allyship research to education and sport policy reform, Athlete Ally continues to pressure global sport governing bodies to ensure LGBTQI+ inclusion policies are existent and consistent.
"We believe that everyone should have equal access, opportunity, and experience in sports — regardless of your sexual orientation, gender identity or gender expression."
— Joanna Hoffman, Director of Communications at Athlete Ally
Athlete Ally also works closely with the athletic community to activate their leadership and amplify the message of equality through avenues such as social media, open letters and public statements.
"I chose to engage with Athlete Ally because I wanted to make my activism more intersectional and I fell in love with the work that they were doing. Now I'm here as an ambassador fighting for LGBTQI+ inclusion in our world and in sports."
— Kaiya McCullough, Athlete Ally Ambassador and Former Professional Soccer Player
ACTIIVST is an athletic-streetwear brand that mobilizes athletes to spark change and advance causes, with a focus on equality, education, and physical and mental health. Through the power of storytelling, ACTIIVST works to amplify the voices of athlete-advocates, and celebrate what it means to be an 'ACTIIVST'.
"At ACTIIVST, we're inspired by the long-standing work of Cotton On to support equality initiatives around the world. Through our partnership, we have a unique opportunity to support Athlete Ally in a way that expands its impact and engages our shared communities in the fight for LGBTQI+ equality."
— Mark Pan, Founder at ACTIIVST
The ACTIIVST X Athlete Ally collection is available exclusively at cottonon.com.