Better denim shouldn't
cost the earth
Denim is one of the most universally loved fashion items, but it can come at a serious cost to the environment. The main reason? Resources—and lots of them. Denim is typically made from cotton. Conventional cotton is grown with harmful fertilisers and pesticides, and requires huge amounts of water to produce. Add to that fabric production and washing processes, and the impact on water, energy and carbon is staggeringly intensive. That has to change.
Our planet deserves better
As a fashion brand, it's a non-negotiable that we need to be part of the solution. That means using our scale, reach and platform to advocate for positive change, drive down the costs of sustainability, and lead with a responsibility mindset as the only way to do business. The new norm for the fashion industry can not only be more sustainable—it has to be. Doing better recognises that where we're at isn't good enough. We have a long way to go, but it's a journey we're committed to—forever.
You deserve better
So what does better denim mean? For us, it's denim that you'll want to live in, day after day. Tried-and-true fits. Washes that get better with wear. Denim made with care and made to last. We want to take you behind the seams, so you can track our progress and be part of the journey. After all, it's you that makes our denim look good! Wear better. Love longer. You deserve it.
Better denim from start to finish

What the numbers mean
We're focusing on the areas where we can make the biggest sustainable impact, not just the biggest numbers in the short-term. When it comes to denim, some brands may only focus on a single step within product production. For example, they might invest in water-reduction initiatives at the washing stage. However, when you look at the overall production process, that only accounts for the smallest percentage of the total water usage. On average, about fifty-percent of the environmental impact of denim product production—in terms of water, energy and carbon—happens at the raw material stage. 1 That's why we're looking from start to finish, to see where we can reduce our impact in a meaningful way.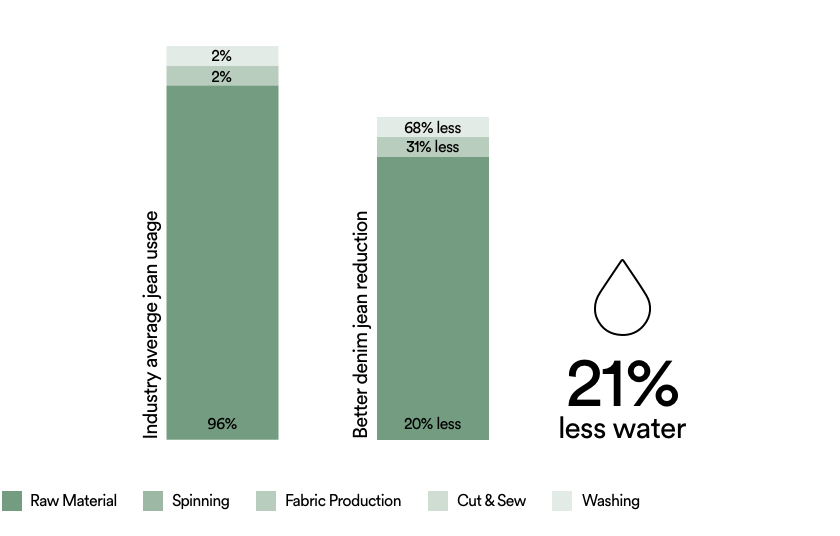 Reducing our energy usage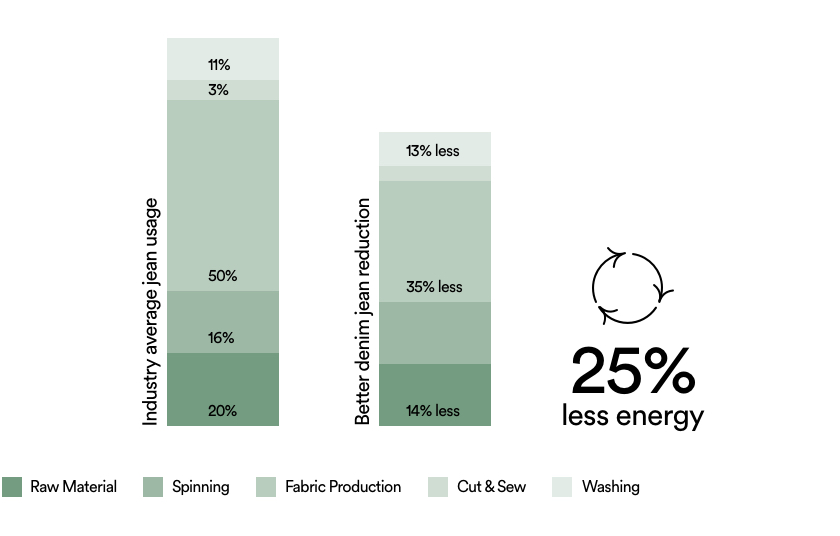 Reducing our carbon emissions
Impacts are calculated using average data and supplier's self-reported data
One pair of better denim jeans does more with less

How we're reducing our impact
Global supply chains are complex and involve areas both within and outside of our direct control. Our impact reduction efforts aim to address both. We support our suppliers to challenge traditional processes, explore new technologies and innovations, and invest in equipment and processes that reduce the overall impact in a big way. Since 2016, we've supported responsible cotton production through the Better Cotton Initiative (BCI), a global industry leader aimed at making cotton production better for the people who produce it, the environment it grows in, and the sector's future. And we've set sustainability targets across the entire Cotton On Group, among which include materials and water processing goals that relate to denim. You can learn more about it in our Good Report. Here, we'll focus on three high-impact areas within denim production and how we're reducing our impact.
Stage 1: Raw material
Our goal: 100% sustainably sourced cotton, forever
Over the past few years, we've transitioned into using more sustainable raw material sources for many of our products, which we call our Responsible Materials. In 2021, we reached our goal of 100% sustainably sourced cotton across the entire business. We want to make sure it stays that way—forever. That means only sourcing cotton that's produced in a way that's kinder to the planet and improves the livelihoods of the people who produce it. This includes supporting responsible cotton production through our partnership with BCI, sourcing certified organic cotton, and sourcing certified recycled cotton.
Today, all our new denim is made with 20% recycled cotton. We first introduced recycled cotton into our denim in 2019 with 10% recycled cotton from post-consumer waste. Recycled cotton has contributed to most of our water impact reduction and typically comes from old clothes or leftover factory fabric scraps. It uses less water, pesticides and energy compared to virgin cotton fibres. We partner with suppliers who are certified to the Global Recycled Standard (GRS) or Recycled Claim Standard (RCS) to verify the sustainability claims of our fibres and materials, from raw material through to the final product. Working with what current technologies can achieve today, we believe we can develop denim with up to 50% off without losing out on quality. So watch this space!
Stage 2: Fabric production
Fabric production involves a number of processes like weaving, dyeing and fabric finishing. Our suppliers are taking the steps to make impact-reduction improvements to preserve and protect resources. Today, this includes renovating and upgrading equipment, installing solar systems, harvesting rainwater, and improving steam recovery. We're committed to supporting them in a process of continuous improvement, as new technologies are developed and introduced.
Stage 3: Washing
Our goal: 100% of denim washed using water reduction processes by 2030
Traditional industrial denim washing processes use a lot of water—a resource we can't afford to waste. We've worked closely with our key denim suppliers to explore innovative technologies that can achieve the same final result with a much lower environmental impact. These include:
Ozone wash - G2 Ozone technology uses oxygen to generate ozone gas, which has natural bleaching capabilities. It substantially reduces the consumption of water, energy, chemicals, enzymes and stones.
Laser - This technology can achieve precise, repeatable bleaching and can replicate wear effects without water, chemicals or stones. It also helps to eliminate harmful processes that affect workers' health, such as sandblasting, hand sanding and potassium permanganate sprays.
Nanobubble - Also known as e-Flow system, this technology transforms oxygen into nanobubbles of air that act as a carrier to apply various finishing effects with minimal amounts of water and chemicals.
Natural drying - Rooftop drying systems that help to reduce the need for machine drying, which uses a lot of energy. This is done by using integrated hangers that move garments around to dry them.
Towards ever better
For us, the roadmap for better products has to be responsible. We recognise that the well-being of our community is directly tied to us making lasting, sustainable changes that have a positive impact on our planet and future generations. The initiatives and goals we've set in action help to shape our commitment today, but we'll always look to do more. For an even better tomorrow.
Our data source:
We partnered with RESET Carbon, a specialist supply chain and environmental consultancy, to measure and analyse the environmental impact of Cotton On denim against industry average denim that uses conventional cotton and washing methods. The results were calculated based on the average weight of all denim garments in our July 2022 range, which equalled 160g. We selected the Long Straight Jean and High Mom Short in the women's denim range to best represent this average across denim jeans and denim shorts.
References:
1. Based on our calculation of the baseline jeans in which suppliers' and industry average data are used.

2. https://www.sciencefocus.com/science/how-long-does-a-shower-have-to-be-to-use-the-same-amount-of-water-as-a-bath/

3. https://www.aer.gov.au/system/files/Residential%20energy%20consumption%20benchmarks%20-%209%20December%202020_0.pdf

4. https://www.usda.gov/media/blog/2015/03/17/power-one-tree-very-air-we-breathe