STAY FRESH WITH PALOMA POPS!
YUM! / 18th September 2017
We sit down with Karen from Paloma Pops and discover the magic behind the guilt free, real fruit popsicles that Australia loves! Enjoy these delicious pops with an easy to make recipe as we make our way into summer with our brand new swim range your kids will adore. From colour change shorts to new sunglasses, splash into Summer with all new swim. Cotton On Kids and Paloma Pops are the perfect match!
Where did the name 'Paloma Pops' come from?
We have a gorgeous, bubbly and vivacious 5 year old daughter named Paloma.
She embodies the idea of summer as a kid and so we named the brand after her.
We wanted Paloma Pops to invoke the old dream of running through sprinklers in the garden and having fun in the sun with your best friends.
Why did you begin creating these real fruit pops and what inspired you?
Once we had our daughter, we realised that there was a huge gap in the market for guilt free treats for children.
Our pops are all natural, made with fresh Australian Produce and not much else. They are handcrafted locally with a whole lot of love.
We wanted to make something that we would always be happy to give our child and her friends .. And not just on special occasions.
What is your favourite creation so far and why?
I love our Apple Passion pop as they are naturally sweet, juicy and incredibly refreshing. You can taste summer in every bite.
I am also a little obsessed Strawberries and Cream! We crush fresh, whole, Australian strawberries and blend them together with full cream to make a deliciously creamy fruit pop.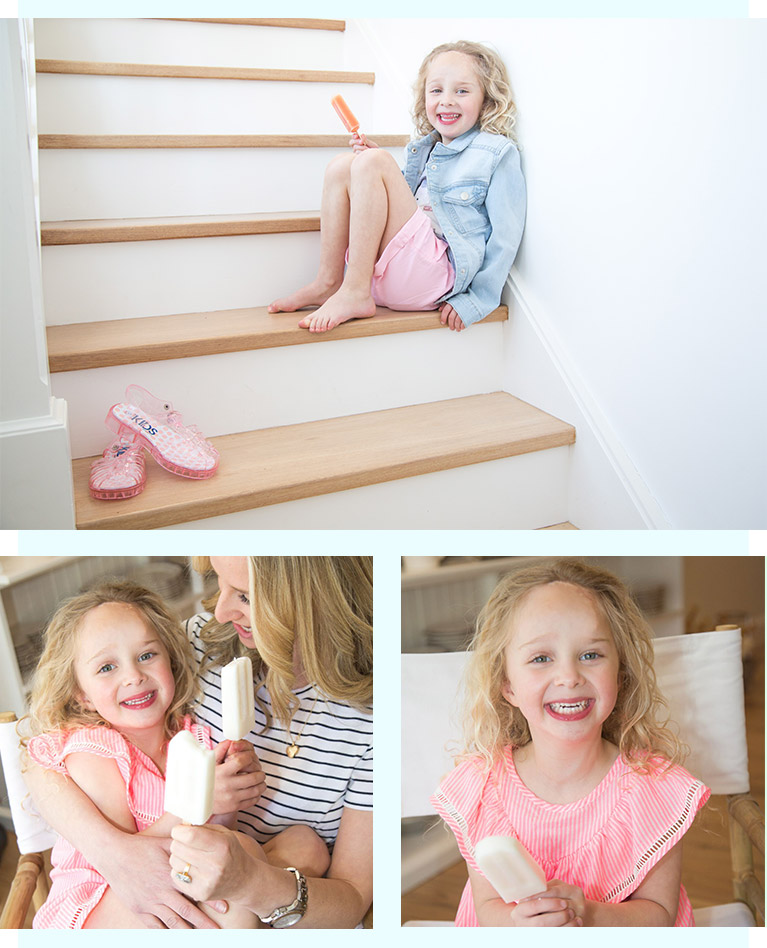 Tell us a little bit about why being natural is so important.
Sweet treats don't have to be bad for you.
As a nation, we are more health conscious than ever. We are more aware of what we consume and what is and isn't good for us.
We wanted to take our customer back to the good old days where life was simple and uncomplicated. Good, clean fun.
Our pops are made from scratch by hand with no added sugar, no preservatives, artificial flavors or additives. They are also certified Gluten Free.
It's like we always say… Have Fun Naturally….
Where can we find your pops?
Paloma Pops are available Nationwide from gourmet food stores, local fruit markets and independent grocers like IGA. Our website has a full list of stockists in each state.
Your readers can also connect with us via Instagram and Facebook to hear more about what's popping up!
Check out Paloma Pops online!
INSTAGRAM
FACEBOOK
See below for Paloma Pops original recipe!!
All Natural, Simple Breakfast Pop Recipe
1 cup full cream Greek yoghurt
½ cup Milk
2 tsp honey (optional)
½ cup your favourite granola
1 cup berries or chopped stone fruit
• In a bowl, mix together yoghurt, milk and half the fruit and honey
•Divide up between 4-6 pop molds (depending on size)
•Mix remaining fruit, honey and granola and then top each mold
•Place sticks into the mold and freeze for at least 4 hours
•To remove pops from mold, run under warm water until they come lose.
Enjoy!
Join today & get
Free Delivery
on your next shop*