Our connection with Yirrkala in the Northern Territory
In the Northern Territory, 900km east of Darwin in North-East Arnhem Land is the Yirrkala community, home of the Yolŋu people. Their culture spans back over 60,000 years, passed down from generation to generation through song, dance, art and ceremony. Yolŋu continue to protect cultural knowledge and empower their young people to celebrate and express their identity.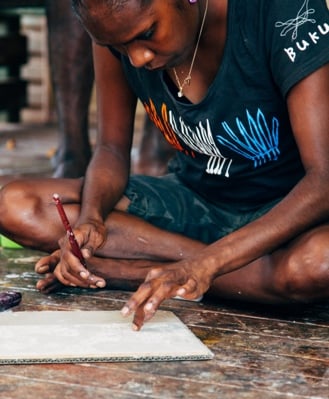 The Cotton On Foundation has been proudly working with Yirrkala since 2013. We're supporting educational programs that increase a young person's connection to culture, self-worth and identity. Here's a look at some of them.
The Mulka Project
Exploring Yolŋu culture through music, story, art and creative expression.

The name 'Mulka' means a sacred but public ceremony. It also means to hold or protect. The Mulka Project takes place in the Buku-Larrŋgay Arts Centre, an important archival centre for Yolŋu people. Knowledge of Yolŋu culture past and present can be found within the walls of this creative community hub. The Mulka Project gives Yolŋu youth the opportunity to take part in digital, visual and cultural art under the leadership of community elders and external specialists. Students have access to a production house, recording studio, digital learning centre and cultural archive, to help them develop skills in the creative arts, and build confidence to express and explore their identity.
Learning on Country
Deepening connection to culture within the school curriculum through knowledge from elders.

As part of the Yirrkala School and Yirrkala Homelands School curriculum, Yolŋu secondary students can take part in Learning on Country 'Galtha Rom' workshops. This program goes beyond the classroom and takes place on country, and connects students with Yolŋu learnings. The program combines classroom studies on topics such as climate change and marine debris, integrated with the Yolŋu teachings of elders and rangers. This program has the ability to culturally empower students in a way that integrates both Western and Yolŋu knowledge. Most importantly, it maintains a strong connection to country and identity, under the guidance of Yolŋu.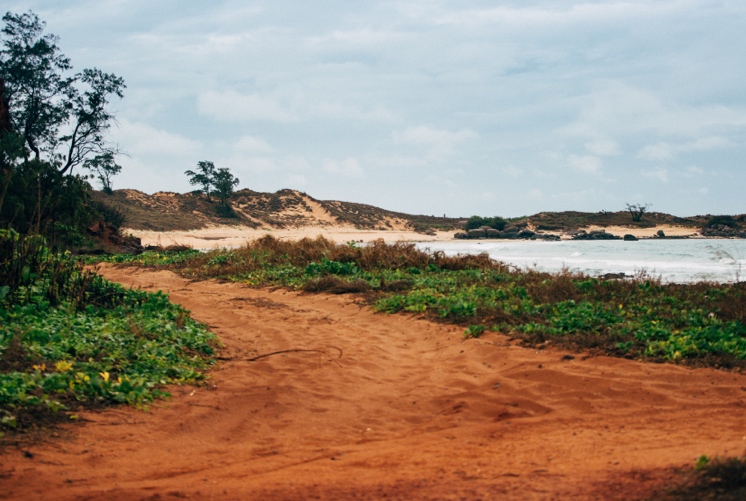 Yirrkala School Wellbeing Program
Engaging and supporting students through mentorship.

Access to supportive mentors for secondary students can greatly improve their chances of graduating. The Yirrkala School Wellbeing Program led by Senior Cultural Advisor Djalinda Yunupiŋu, aims to strengthen the students' connection and engagement with their school and teachers. Students and their families are encouraged to connect, support one another and celebrate achievements. These Wellbeing workshops support students to complete their Year 12 studies. Djalinda says, "It is critical that we take the time to slow down and listen to students and their families. We are welcomed, connected and trusted. Witnessing strong engagement of young people with learning and school is the highlight of our work."
Homelands Schools
Creating educational and career pathways in isolated communities.

Homelands are located on the ancestral lands of the Yolŋu people. These communities are also some of the most isolated, with access to education or vocational courses often difficult. That's where the SHEP Program comes in.

The Secondary Homelands Education Program (SHEP) caters to several of the Homelands surrounding Yirrkala. It gives students access to secondary education and vocational training, without having to leave their homelands. Teachers will travel to these remote areas, some only accessible by light aircraft, to give students access to the secondary curriculum. This means students can complete their Year 12 Certificate while staying with their community, and maintaining a strong connection with their identity, culture and land.
You're doing so good
Together, we've raised over AUD $1.2M to date to support educational projects in Yirrkala. Your ongoing support is the reason we can continue to partner with these amazing programs and make a difference in students' lives. Grab a Cotton On Foundation item today. 100% of proceeds go to towards empowering youth through quality education and wellbeing projects.