Say hello to vegan-friendly
From sneakers and slides, to must-have bags—we're going vegan-friendly.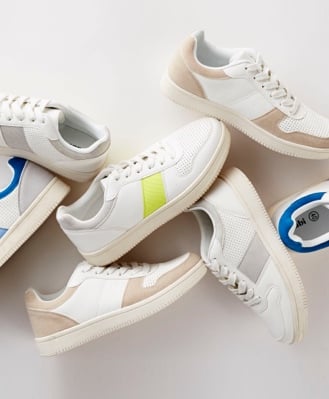 Say hello to vegan-friendly
You spoke, we listened—and we got to work. We're excited to share our new vegan-friendly ranges. Think must-have bags, belts, and shoes!
It's just the beginning. We'll be launching more year-round ranges for those who want to shop vegan-friendly options. Because we believe in giving you the choice to shop by your values.
So what does it mean?
Vegan refers to all non-animal materials and components like leather and glues. For us, products must be PETA-Approved Vegan, which means no animal testing, non-animal materials, and no animal-derived ingredients are used in any part of the production process.
PETA is the largest animal rights group, globally. Partnering with PETA has meant we are more informed to do good and make meaningful decisions for ourselves and for you.
We're working closely with our suppliers to make sure that our vegan-friendly products are checked every step of the way. From the mills where our fabrics are spun to the factories where our products are produced, vegan testing and spot checks are conducted in our factories to make sure that everything that goes into them is 100% vegan.
Bags
Bucket, quilted, boxy or smooth—get the faux-leather look in the latest #trending shapes.
Sneakers
From retro hi-tops to 80s-inspired basketball sneakers, all our women's sneakers are now vegan-friendly.
Slides
Our best-selling Rex range is known for the buckle look and the comfiest footbed soles.
Flip flops
Our women's and men's flip flops are also made with 50% recycled materials and are 100% PVC-free.