Recycled for now.
Recycled for good.
We're all about things that feel good. The sun on your skin, sand between your toes, and making what you love with more responsible materials than ever. That's why our women's and men's swimwear range is made with recycled fibres — for now and forever. To give old materials new life and reduce our reliance on finite resources.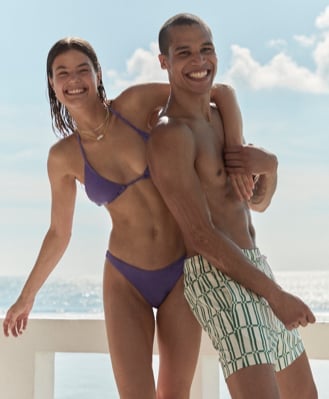 "Our recycled swimwear commitment is part of our bigger circularity goal. To reduce, renew and recycle across all areas of our business. New from old is one way we can work towards closing the loop. For good."
– Elizabeth Keegan, Sustainability Project Lead.
For the love of our oceans
Plastic in the sea? We don't want to see it. That's why we're working with suppliers to source more sustainable fibres that repurpose plastic waste, and help to divert it from our oceans and landfill.
Our new swim fabrications use 80-95% recycled polyester from post-consumer waste, commonly sourced from waste PET material - that's the stuff in plastic water bottles. So, how's it actually done? Recycled polyester is made by breaking down used plastic into tiny pieces which are melted and spun into yarn. Compared to virgin polyester, producing and processing recycled polyester decreases greenhouse gas emissions in a big way, and can be continuously recycled again and again. It also helps to reduce our reliance on virgin and finite materials. The end result is a soft yet durable fabric that's more sustainable and gives old materials new life.
"What's so exciting is the accessibility we have to recycled yarn, and that it performs as well as virgin yarn. It's important to us that we're able to maintain the same quality in our designs, print and colours, and retain that accessible price point for our customers."
– Talia Lentini, Senior Buyer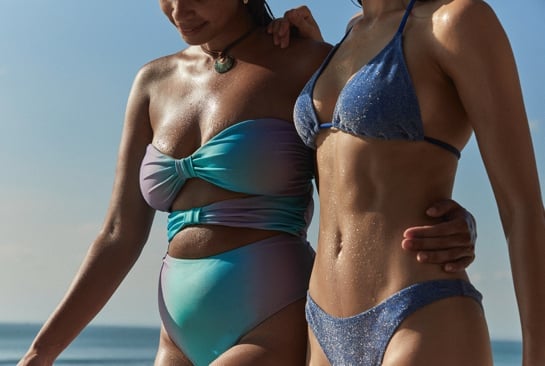 Reduce, reuse, recycle
We also partnered with Arch & Hook, the world leaders in sustainable hangers, to use their Blue Program clothes hangers instore for our swim range. They're made from 100% upcycled ocean-bound plastic and recycled post-consumer plastic, and can be remade into new hangers, over and over again.
Today we're using recycled fibres and materials in the fashion styles you love (right down to the care labels and product tags), as well as the poly bags and boxes that your orders come in. Our teams in every department are dedicated to responsible sourcing and innovation to create more sustainable products that are kinder to the planet and its people.