Recycled puffers
are the new cool
We're making your search for a new winter jacket easier than ever—and more thoughtful. Meet our recycled puffers that are giving old materials new life.

They're made with recycled polyester, which is commonly sourced from waste PET material—that's the stuff in plastic water bottles. By turning post-consumer plastic into recycled polyester fibre, it helps to reduce plastic waste and prevent it from ending up in our oceans and landfill.
The Recycled Mother Puffer
100% recycled polyamide (outer) + 100% recycled polyester (inner & fill)
Our best-selling puffer is cosy on you and kinder to the planet. Lightweight, water repellent and in all the colours you want. Now with a detachable hood, extra coverage and puffier than ever.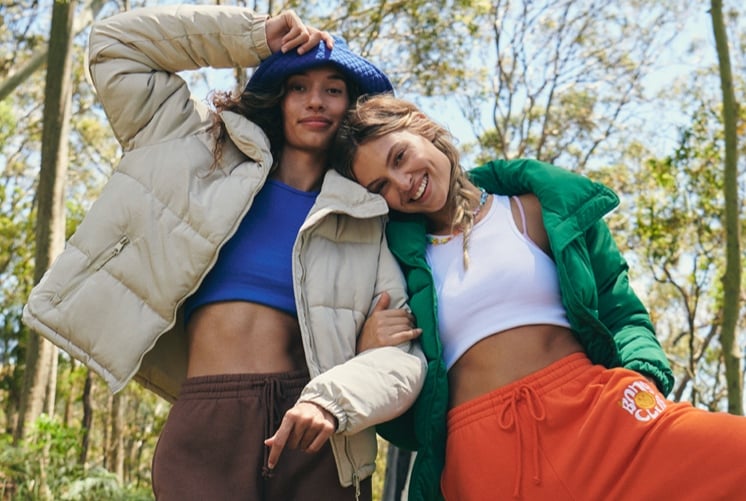 Men's Recycled Puffer Jacket
100% recycled nylon (outer) + 100% recycled polyester (inner & fill)
Better than your average puffer. We updated this winter layer with a stack of essential features. Full zip-up front, stand-up collar and stretch cuffs to keep the warmth in. Updated fit for extra comfort and style. Two fleece lined front pockets and we gave the outer a matte finish for a fresh look.

Which puffer will you pick this season? We've got something for everyone. Vest, Crop, Regular, Mid-length, Longline and much more. Big on adventures. Small on impact. Recycled inside & out.
"Obsessed with the puffiness! It's my new go-to this season, I'll be wearing it everywhere."
—Jessie, Recycled Mother Puffer Jacket
"Lightweight but still sooo warm. Being water repellent and made from recycled materials is a bonus."
—Kai, Recycled Mother Puffer Vest
"Great fit. Great quality. An awesome warm and practical jacket to take away with me."
—Tom, Men's Recycled Puffer Jacket