Made of Women:
Growing the sisterhood
Celebrating IWD 2021: Meet the women using their platforms for empowerment and positive change.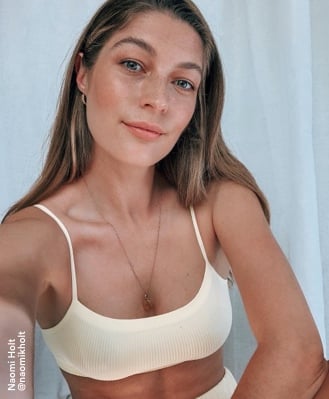 Made of Women: Growing the sisterhood
We're celebrating International Women's Day 2021 by highlighting the women in our community who inspire and empower us.
There's something to be said about the power of social media. In a time when we're more connected than ever, we're proud to highlight the women using their platforms for empowerment and positive change. From mental health to body image and social issues, meet the women creating safe spaces for conversation on the issues close to their hearts.
Naomi Holt - @naomikholt
Provisional psychologist. Entrepreneur. Content creator.
"The more we share our stories, the more people understand and judgement can end."
What does a day in your life look like?
Very different, depending on the day! Like many women, I wear many hats. Some days I'm on set shooting and the next, I'm in loungewear with dirty hair running my business or studying. But each day includes cuddles with my kitty, and I aim to make time to read every day.
Can you tell us about the #ModelledMinds movement?
Modelled Minds is a community and an education platform where mental health, self-care and body celebration thrive. I wanted to create a space where individuals could be uplifted and inspired to openly discuss their mental health, self-care, and celebrate their bodies.
Why is it important for you to use your platform to talk about these issues?
We need to create safe spaces to talk about these topics, away from stigma. It gives us confidence to speak out, even when people may not understand or judge. By doing this, we can inspire others to feel that they can also share their voice. I want to have a positive impact on others' lives, and I hope this is one way I do this.
"To me, Made of Women means that I have had an army of strong, passionate, inspiring, resilient and caring women standing behind and beside me, shaping me into the woman I am today."
Who are your role models?
I'm inspired by the strong female characters in the books I read. The women who face adversity and challenges and keep going. I can see how they represent the strength of women everywhere. I hope to slay my dragons and face any army, just as they do.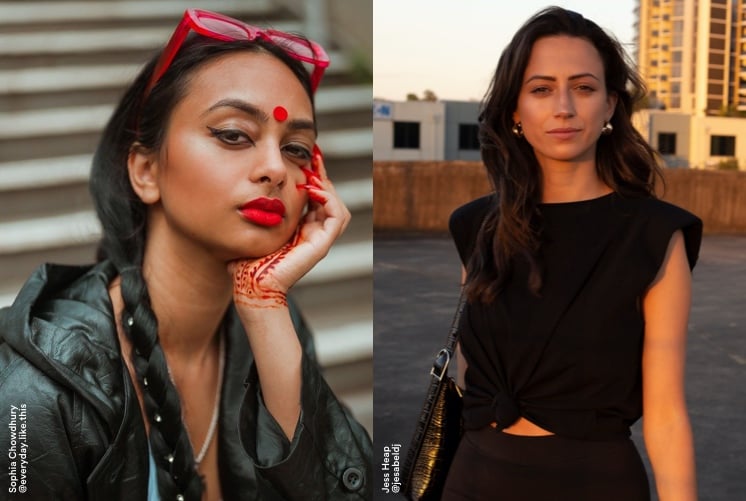 Sophia Chowdhury - @everyday.like.this
Digital marketer. Stylist. Content creator.
"Having diverse representation in mainstream spaces is important. We should always be reflecting the world we live in and showcasing the beauty of how diverse our country is."
Tell us about how your career started.
I started blogging in 2010 when Blogspot was all the rage, while studying digital media and marketing at uni. I didn't see anyone in Australia look or dress like me in the media growing up and needed a creative outlet to express myself. As social media grew, my blog grew on platforms such as Instagram, Facebook, Pinterest, and now TikTok. I've been able to work with so many incredible local and POC-owned brands on my accounts, all while getting to be myself.
You regularly use your platform to raise awareness about issues happening around the world. Why is this so important to you?
As a woman of colour, I feel like I don't have the luxury to ignore certain issues as for me and my POC community. Some of the issues we raise awareness on are things we deal with in our daily lives, both professionally and personally. We don't just talk about it because it's 'trending'. We speak up because no one else before us has, or has been able to. Mainstream media usually doesn't highlight our stories and issues. Having the platform I have, it's important to talk about issues I'm well educated on, or have had lived experiences in, to bring a different perspective.
"I think that's why I love Instagram so much. It lets people control their own narrative without having external environments tell you what is and isn't acceptable."
You were the first Bangladeshi woman to be featured in Vogue Australia. What was that experience like?
Honestly, it still feels surreal. When you grow up realising certain spaces were not made with people who look like you, you don't really think you can be invited to the table. The love I got from my Bangaldeshi followers here and abroad in the diaspora was something I had never experienced. It was like we all won and were all in Vogue!
When do you feel most empowered?
When I get to be myself. I think when you grow up in a world where women are told how to talk, dress, behave, it's powerful to just ignore the rules and do you. To me, female empowerment means to just be myself and succeed in spaces that weren't made for me. I think it's empowering to challenge certain norms that are outdated.
Who are your role models?
My mum, Vashtie, Winnie Harlow, and South Asian creatives in the diaspora. All these women have unapologetically been themselves while pushing boundaries and creating safe spaces for the community while doing badass things in their careers.
Jess Heap - @jesabeldj
Listen Up ambassador. Content creator.
"I like to think of music as the universal language, with the ability to allow everyone to understand each other. Music is so unifying. I just love it."
What's your favourite thing about your job?
My favourite thing about my job is how it makes me feel. I feel so strong and empowered when I perform. It allows me to help create memories and experiences for others and I think that is really special.
Tell us about working with Listen Up Music
I've been working with Listen Up Music as an ambassador for nearly four years now. They are passionate about mental health awareness and educating people. As someone who has dealt with anxiety my entire adult life, their message of healing through music rings so true to me. I knew it was a cause I could get behind and support.