Cotton On X Empty Esky: Exploring Capricorn Coast, QLD
Book some out-of-office days and head on down the stunning Capricorn Coast. Think scuba diving, cute koala encounters and pineapple picking.
Cotton On X Empty Esky:
A weekend exploring Capricorn Coast, QLD
Stunning islands, lagoons and great eateries are just a few of the gems you'll find on the Capricorn Coast. Having grown up on this beautiful stretch of coastline in Central Queensland, travel writer Christina Macpherson and her partner Tom Paterson show us the must-visit spots. From Yeppoon to Pumpkin Island, get the lowdown on where to fill your empty esky along the way.
Day one
Pop Yeppoon into Maps and hit the road.
Feeling peckish? Pull into the Waterline Restaurant at Keppel Bay Marina for a quick bite and caffeine hit.
Head to the loading dock and set sail for Pumpkin Island, only a short 13kms out from the coast.
Enjoy a tour and a late picnic lunch, before an afternoon spent scuba diving with Keppel Dive. Clear water and an abundance of sea creatures close to shore make it the perfect spot.
Check into your accommodation in Yeppoon. Salt Apartments gets our vote.
Wrap up day one with dinner at Clubhouse, Keppel Bay Sailing Club. Take the scenic route with a street art tour on your way there.
"Scuba diving is a must. The colour and vibrancy of the reef is incredible. The flora and fauna thrive all around you".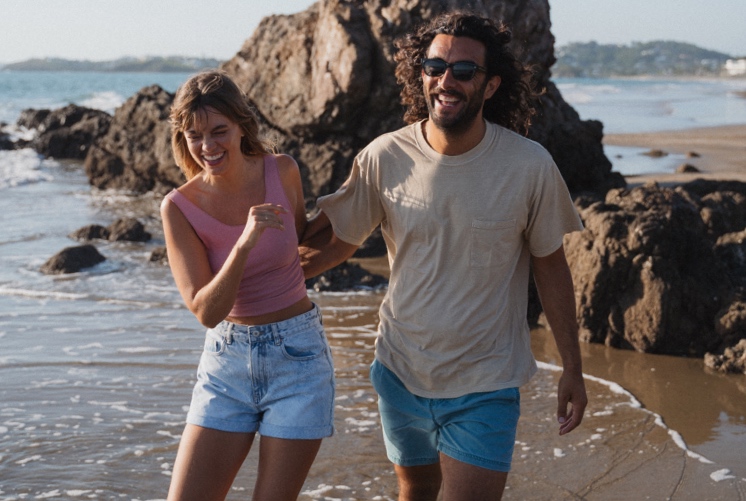 Day two
Start the day with brekky at Lure Living. From great coffee to delish acai bowls, you'll feel fuelled and ready to go.
Make some new wildlife friends at Cooberie Sanctuary, from cuddly koala encounters to crocs and reptiles.
Visit Yeppoon Lagoon for lunch at The Rocks. Choose from the milk bar-style offering, classic café, or world-class restaurant, depending on what you're vibing.
Next stop: High Valley Dawn Permaculture Farm—where you'll learn all about organic, self-sustaining farming.
End the day with dinner at Beaches Restaurant, before heading back to your accommodation to hang your hat and relax after a long day.
"At the farm we were asked to stop, close our eyes and breathe in the fresh air. Apparently most people leave a little changed after this, and I think that was true for us too".
Day three
Kick off day three with breakfast at The Citrus Club, where sunshine and street food is served.
Head to Water Park Creek, Byfield State Forest for a morning spent kayaking.
Once you've worked up an appetite, pull into Ferns Hideaway Resort for a spot of lunch followed by a short bushwalk.
Finally, head out to Pure Gold Pineapples for a farm tour and pick up some tasty goodies. A weekend well spent.
"When talking to the locals about the fires, there's this constant thread of "we'll be alright". It shows how enduring with a good attitude can really aid in the healing of all kinds of things".
Cotton On is proud to partner with Empty Esky to help bushfire-affected communities get back on their feet.