The Good Report 2021
A real 'pinch us' moment. We're excited to share our first annual The Good Report. To bring you on the journey and even closer to the heart of what we do: Making a positive difference in people's lives.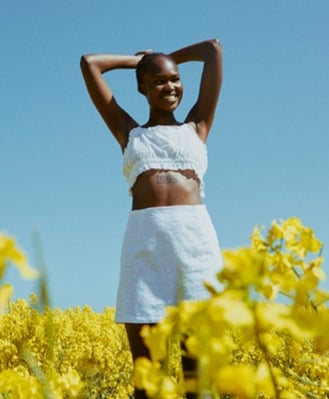 It's a chance to reflect and celebrate the big, impactful moments so far—a real team effort, thanks to you! But Doing Good is never done. We recognise the huge work that's still ahead, so it's really important that we share the commitments we'll be holding ourselves accountable to, now and into the future.
Here's a quick look at some highlights below. You can read the full report here.
People & Partnerships
Fundraised our biggest year ever through the Cotton On Foundation, raising over $20 million AUD to support quality education and healthcare initiatives around the world.
Supported UNICEF in the largest vaccine operation in history, helping them to deliver more than 1 million COVID-19 vaccines to some of the world's most vulnerable communities.
Partnered with more than 1,200 factory workers through our Empowering Women Workers in Bangladesh program to advance their personal and professional skills.
Expanded our Africa Cotton Program into Mozambique to empower more farming communities with the knowledge and tools needed to adopt sustainable farming practices. We've also made an ongoing commitment to purchase 100% of the cotton produced by the program.
Planet & Sustainability
Set our target to be carbon neutral across our entire operations by 2030. Kick-started by our New Zealand operations, which will be our first renewable energy powered region as of January 2022.
Achieved 84% of our 2023 target to wash 100% of our denim using water reduction processes.
Significantly reduced the use of plastics across our operations by launching poly bags and postage satchels made with over 90% recycled plastic waste, and converting to 100% recycled paper swing tags and care labels made from 100% recycled plastic waste.
Introduced a new Cotton On Foundation water bottle in Australia and New Zealand to replace plastic water bottles. Made from 100% aluminium, including 70% recycled aluminium, it's resealable and infinitely recyclable.