Taking Australian cotton
to the world
Cotton On Kids has launched its first range made from 100% Australian Cotton. The collection will include apparel across Girls, Boys and Babies and has been made possible by a partnership with Cotton Australia. The extensive range will include over 4 million units in this first collection alone, with product available online and instore in the United States, Asia, South Africa and New Zealand, as well as Australia.
The range is part of the brand's ongoing commitment to making a positive difference in people's lives; with each of the pieces featuring cotton produced and harvested by farming families in rural Australia.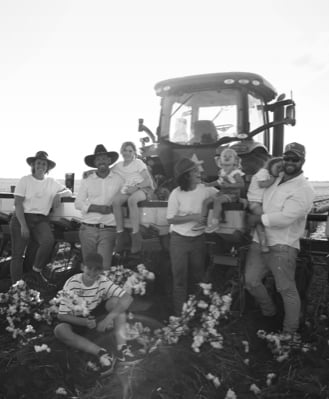 Cotton Australia partnership
The Australian Cotton industry is made up of approximately 1,500 cotton farms, located primarily in QLD & NSW. Around 90% are family farms, with many having lived and worked in their communities for generations.
"The partnership with Cotton On Kids is such an important step in our journey to support the growth of our local cotton industry. It allows us to ensure this high-quality, sustainably grown product we are so proud of is accessible to many, and we look forward to this being the beginning of many more ranges featuring the locally grown cotton our farmers are so proud of."
– Brooke Summers, Cotton Australia
Supporting Homegrown
Australia is one of the most water efficient cotton growing countries in the world, thanks to a range of innovations including reducing evaporation and precision irrigation. The industry provides employment for more than 12,000 people Australia-wide, supporting local families and their communities as well as developing a product with a smaller environmental footprint.
The launch of this initial range is just the first step for Kids, with more Australian cotton ranges planned for later this year.
Cotton goals
Australian grown cotton is just part of our Ever Better journey in making a positive impact on the planet. All cotton across the group is now sustainably sourced, produced in a way that minimises environmental impact and makes cotton production more sustainable as a whole. This includes cotton sourced through our own cotton growing program in Africa, recycled cotton, organic cotton, and by supporting responsible cotton production through our partnership with Better Cotton.