Kicking goals for
women's footy
We teamed up with four up-and-coming AFLW players to design the 2020 #GenW tees, supporting the growth of grassroots women's footy.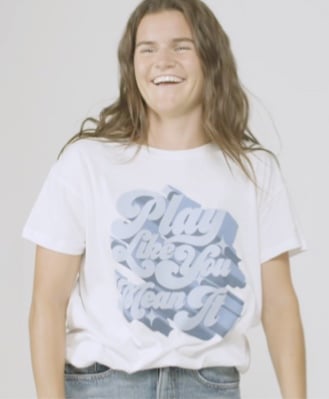 We've been a proud partner of the AFLW since the first bounce in 2017. To kick off the 2020 NAB AFLW Season, we teamed up with four up-and-coming players to design #GenW tees that represent what they stand for, and support future players with all proceeds going to the AFL Women's Football Foundation.
Play like you mean it
"I do put everything on the line. I love to play the game and I do everything in my power to be the best player possible. I step out on the field and I give it all I've got. AFLW is a social change in itself. We're creating equal opportunities for women and creating greater respect for females in the workplace and in sport."
— Lily Mithen, Melbourne Football Club
Set the standard
"Being a role model means a lot to me. I never had the opportunity to play with women until I was fifteen. I played footy for, like, ten years with the boys. I was lucky enough to be drafted at a young age. But I know that I've got to work hard, I didn't just have the natural talent. You've got to set the standard, and be the standard to drive people with you."
— Ebony Marinoff, Adelaide Crows
She who dares wins
"It's important to create a community for women in sport, because women have walked so many different pathways, but still want and deserve equal opportunities. AFLW means that I'm able to live out my childhood dream. The sisterhood of being a part of an all-female sport is truly amazing. There's so many friendships and everyone's in it together. When you step on the field, they're your enemies, but off the field we're in it together."
— Ellie Blackburn, Western Bulldogs
The future looks bright
"It's not just a man's game, it's a woman's game as well. Growing up, AFLW felt like a dream. I was shy as a young girl, and I wouldn't do much to step out of my comfort zone. But that's where the magic happens. You have to get out of your comfort zone to do something great. Now young players have girls to look up to, and I'm really proud to be one of those girls."
— Kaitlyn Ashmore, North Melbourne Kangaroos
100% of proceeds from the sale of AFLW #GenW tee's will go to the AFL Women's Football Foundation. In partnership with the Australian Sports Foundation, the AFL Women's Football Foundation supports the growth of grassroots women's footy.
All tees support sustainably sourced cotton.